Welcome to Ladybird Class

Polite reminder to all:
Please remember our PE days are on Monday and Friday. Please ensure that on this day your child has their PE kit in school which includes a white or red t-shirt, black or red shorts and a pair of plimsolls. Earrings must be removed and we also ask that children with long hair have their hair tied up for PE due to safety. Thank you for your cooperation.
Who is in the Ladybird Class?
Ladybird Class is one of two mixed Reception / Year 1 classes at Holton-le-Clay Infant School. Ladybird class is taught by Mrs King with the help of Mrs Ayres our foundation stage teaching assistant (shared with Dragonfly class).
What are the Ladybird Class learning about?
This term our topic is
All About Me
We look forward to lots of exciting learning in reception this term! We are certainly going to be busy!
To view our curriculum overview letter for this term please click here. Your child will also be bringing a paper copy home. The overview lists all of the things which we will be covering during the current term. The link also provides a list of ideas and suggestions for parents / carers on how to support your child's learning at home.
So what curriculum does the Ladybird Class follow?
In the Frog Class we follow the Early Years Foundation Stage (EYFS) Curriculum. The EYFS is split up into seven areas. Each week Mrs King will plan and cover each of the seven different areas through a variety of exciting and engaging activities. Mrs King uses the iPad to record our learning in our very special files, called our learning journeys. The areas which we learn about are as follows:
EYFS Curriculum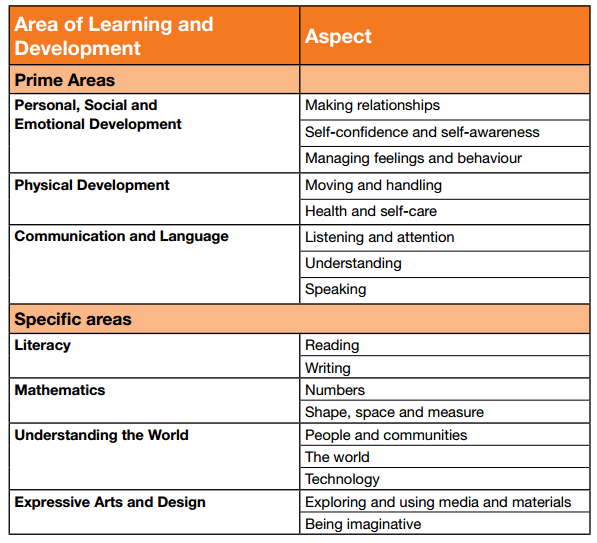 Year 1 Curriculum
Maths- Place value and addition and subtraction will be a focus for the first half term. After half term this will expand to examining multiplication and division and starting to understand fractions. Year 1 look at multiplication, division and fractions in practical terms.
English – Children will take part in guided reading on a regular basis and use a variety of books for a stimuli for writing.
Science EYFS/Year 1 -Different materials and their properties. Year 1 and 2 - Animals and classification and habitats, this is linked to the geography.
Art – Pattern and Colour. We will examine the use of colour and pattern in art, while also looking at artists like Mondrian and Pollock.
PE – Coach Lizzy will be using dance as a focus for the start of the term.
History – Children will examine aspects of World War 2 and the effect it had on British children.
Geography – An African experience, through art, dance, map work, science and a look at cultural differences.
RE – We will be looking at the Jewish festival of Sukkot and the parallels with our harvest festival.
ICT – Email and E-safety in Year 1 and 2, with programming in EYFS/Year 1.
Where do the Ladybird Class learn?
Ladybird Class are very lucky and learn in lots of different places. Ladybird Class learn inside their classroom, in their outdoor classroom and the outdoor learning environment. See the pictures of where we learn below.
This is our classroom

This is our outdoor learning environment

What can parents / carers do to support us?
In LadybirdClass we feel that home school links are crucial to supporting a child's learning. We do lots of things to support these links. We strongly believe that children learn to be strong and independent through positive relationships, therefore we seek to foster these relationships.
Honey the bear
Honey is our special friend in the Ladybird Class. The children in take turns to take Honey home. The children in Ladybird Class love to come back to school share their adventures and photographs with the whole class on a daily basis. Please feel free to contribute by sending any photographs or drawings into school when Honey comes to visit you.
'WOW' certificates
The children in Ladybird Class can also be awarded 'WOW' certificates! These are awarded to the children by both parents, carers and teachers for special things which they have done at home or school. For example, a 'WOW' certificate could be awarded for learning how to fasten a coat independently, learning how to ride a bike or being helpful at home, the list is endless! The children return these WOW certificates to school and love to share and celebrate their 'WOW' certificates with their friends and then we proudly display these in our cloakroom. Each 'WOW' certificate contributes towards each child's individual learning journey.
Thank you for taking the time to look at the Ladybird Class page. We hope that you have enjoyed seeing some of the things which we are learning about!